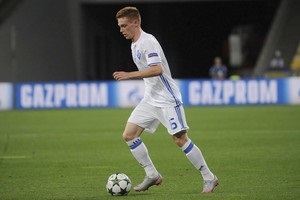 Victor Tsygankov
Dynamo Kiev sent five unanswered goals in the gate of the Lviv Carpathians.
In the third round of Ukrainian Premier League Dynamo Kiev has won a crushing victory over Karpaty Lviv – 5:0. The fight was held in the capital of Ukraine at the Olympic NSC.
Already at 9-th minute Kiev opened the scoring thanks to a goal by Vitaly Buyalsky. Four goals the Dynamo scored after the break. In the capital club also scored, Demersi Mbokani, but the real hero of the mast was Viktor Tsygankov, who scored a hat-trick.
Thus, Dinamo has produced the third win of the new season and now is the sole leader in the standings with 9 points.
Dynamo – Karpaty 5:0
Goals: Buyalsky 9 Tsygankov, 55, 62, 84, 59 Mbokani
Dynamo: Rudko, KENDZERA, Mbokani (Kravets 63), Kadar, Khacheridi, Buialskyi, Korzun, Tsygankov, Yarmolenko (Gusev 67), Shepelev
Carpathians: Mysak, Tkachuk, Miroshnichenko, Lobi, Lebedenko (Busko 88), Klets, Ribas, Khudobyak (di Franco 65), Chachua (Arques Blasco 65), Gutsulyak, Nesterov
Warning: Khacheridi 71, Kadar 74 – 78 Lebedenko
According to the materials:
iSport.ua
Source