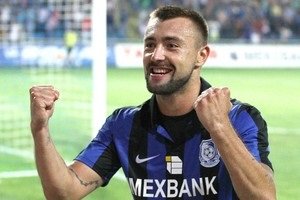 Alexei Antonov
Alex Anton and Sergey Politylo have strengthened the squad in the Odessa club.
Chernomorets on its official website announced the signing of contracts with two players – Alexey Antonov and Sergey Politylo.
It is worth noting that both players have already played in the Chernomorets.
So, Antonov defended the colors of the Odessa club in season 2013/14. The striker has played for the team in 43 official matches, scored 15 goals. In addition, Antonov has played for Junior and youth teams of Ukraine (24 games, 14 goals) and played one match for the first team.
Polito played for Chernomorets from 2006 to 2013. The midfielder took part in 107 games in which he scored 8 goals. The player defended the colors of youth teams of Ukraine (39 games, 1 goal).
In addition, new long-term contract with the Odessa Luba concluded graduate school Chernomorets Nikolai Masalitin.
According to the materials:
iSport.ua
Source