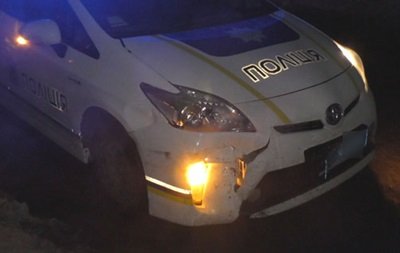 Both cars were damaged
Police blocked the official car of the road, trying to stop the offender. But he decided to go to RAM the patrol car.
The chase and shooting occurred on Sunday, 21 January in Kostopil, Rivne region. The patrol tried to detain a drunken Audi driver, who grossly violated the rules of the road. About it reports a press-service GU NP in Rivne region.
It is noted that the police, including flashing lights and sound signals, asked the driver to stop. However, it only accelerated the movement and started to run away.
"On the street of Academician Hrushevsky offender driving on a red signal of a traffic light, almost hit pedestrians", - militiamen told.
Given the danger posed by the driver, the patrol opened fire on the car, placing a warning shot.
Despite this, the offender is not stopped, and the police had to block the movement of the utility vehicle.
"The attacker tried to RAM a squad car, drove onto the sidewalk, where it collided with a concrete curb, and the wall of the house. The offender was 30-the summer inhabitant of Kostopil district. Besides, he was in a state of alcoholic intoxication, as shown by Drager - 1.77 ppm", - noted in police.
As a result of road accident cars received mechanical damages, none of the participants of the incident were not injured.
Earlier, a drunken resident of the city "lost" its Lexus and reported it stolen.
We will remind, earlier In Lviv unknown driver of the car Mercedes-Benz crashed into police when they issued a traffic violation by the driver of the other car.