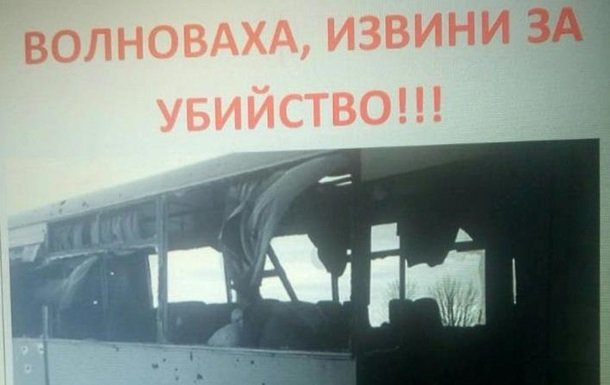 The leaflet recalls the shooting of the bus near Volnovakha
Leaflets dedicated to the second anniversary of the tragedy in Volnovakha.
"Volnovakha, sorry for the murder" – leaflets with this text appeared today on January 13 in the DPR-controlled Dokuchaevsk. Reported about it in Facebook the journalist Andrey tsapliyenko.
"The battery shot from Dokuchaevsk. The occupied city. The bus 12 people were killed, 18 were injured. We remember this day. But, it turns out, not just us. Today in Dokuchaevsk, which monitors the NPT, there were these leaflets. With apologies to the crime crime. A reminder of who did it. On whose hands the blood of his countrymen," wrote Tsaplienko.
The journalist reported that cards had a lot: they were plastered on buildings and fences of several streets, and the separatists of the DPR hastily tried to disrupt them, but some have managed not only to read, but to photograph.
"Who risked their lives to hang these flyers? Perhaps Pro-Ukrainian partisans in the occupied territory. And maybe just ordinary people. Which for many years waiting to return to Ukraine. And remember all," added the journalist.
Recall, January 13, 2015, was fired Ukrainian checkpoint near Volnovakha where at that time there was a passenger bus. It killed ten passengers of the bus, another 18 people in varying degrees of severity were hospitalized. Later died three more victims.
The shelling of the bus under Volnovaha
The attack under Volnovaha: the named suspects
Near Volnovakha, a monument to victims of the terrorist attack
HRW: Mariupol and a checkpoint under Volnovaha could fire DNI
The UN security Council meeting on Ukraine: online broadcast
Poroshenko showed in Davos a part of shelled bus under Volnovaha
Source